RePETG stronger than ever before

RePETG material is here with us for more than one year. It is very popular mainly due to its use for post-processing with bigger and not so detailed models. We are glad about that fact because RePETG is produced from random PETG filament, which does not meet the quality standard. It is another big step for Environmental protection That's why we are moving further. Let us introduce to you New Builder Pack with RePETG.
Let's start from the beginning: what is the PETG?
There is no need to introduce PET material. It is the most used plastic in the world and it is used for the production of plastic bottles, clothes, containers, food packages, and so on.
PETG material is its modified version, G means modified glycol. The result of polymerization is a fiber, which is more clear with better resistance and it is easier to use. It is a combination of two materials – in the field of 3D print - resistant ABS and easy-print PLA.
Key characteristics are the same for both – PETG and RePETG
| | | |
| --- | --- | --- |
|   | PETG | RePETG |
| Easy print | ✔ | ✔ |
| Layer adhesion | ✔ | ✔ |
| Toughness | ✔ | ✔ |
| No warping  | ✔ | ✔ |
| High-temperature resistance (up to 70°C) | ✔ | ✔ |
| Size-constancy | ✔ | ✔ |
| Resistance | ✔ | ✔ |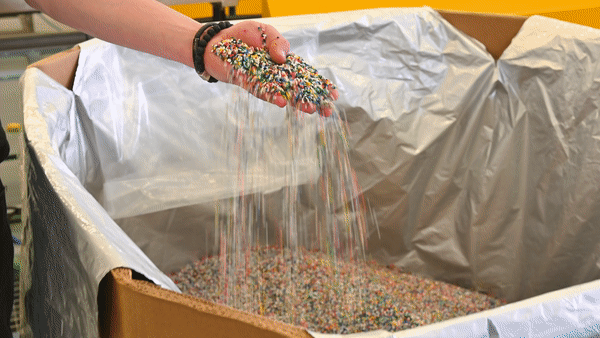 The RePETG origins
The RePETG material is a mixture of random spools. Surprisingly the final color could be different each time. We do not want to destroy the original idea about the ecology, so we do not add any other material or pigment during the RE-production. But if we are talking about post-processing, the color is considered an unimportant quality here.
Even though the color is original each time, the filament quality is not changing! The final material quality is the same as the PETG quality. RePETG, just like PETG, is a very tough material, with good adhesion, easy print, high-temperature resistance up to 70°and it is size-constant. Simply it is an ideal ECO-alternative for 3D Print.
New recycled material is made from random spools, which are crushed again into the small granules, then dried and extruded. The quality is always the same as the quality of the primary PETG. What could make you happy is the price of the Recycled material – the price for RePETG is lower in comparison with basic PETG.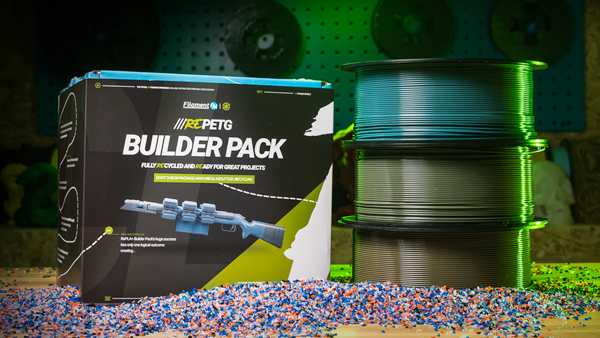 NEWS: Builder Pack RePETG
No more weighing or measuring. Take advantage of this favorable pack – 3x 1kg RePETG spool. You can buy a new Builder Pack for a greatly better price in comparison with the price of one spool.
Recycle with PM!
As was mentioned that setting sustainable processes is an integral part of our company philosophy. The aim of the Return Spool Program "Recycle with PM" is to get back from you the used spools. These spools are then used for the production of another new filament. It means that together we participate in the ecological sustainability of filament production and in reducing waste.
Learn more about the "Recycle with PM" program
Think about the nature, print with RePETG
RePETG (1,75 mm; 1 kg) - SHOP NOW
RePETG Builder Pack (1,75 mm; 3×1 kg) - SHOP NOW